Looking for easy Halloween party food? Look no further than this simple guide to Halloween snacks. Make these edible mummies, spiders and bats for a spooky good time!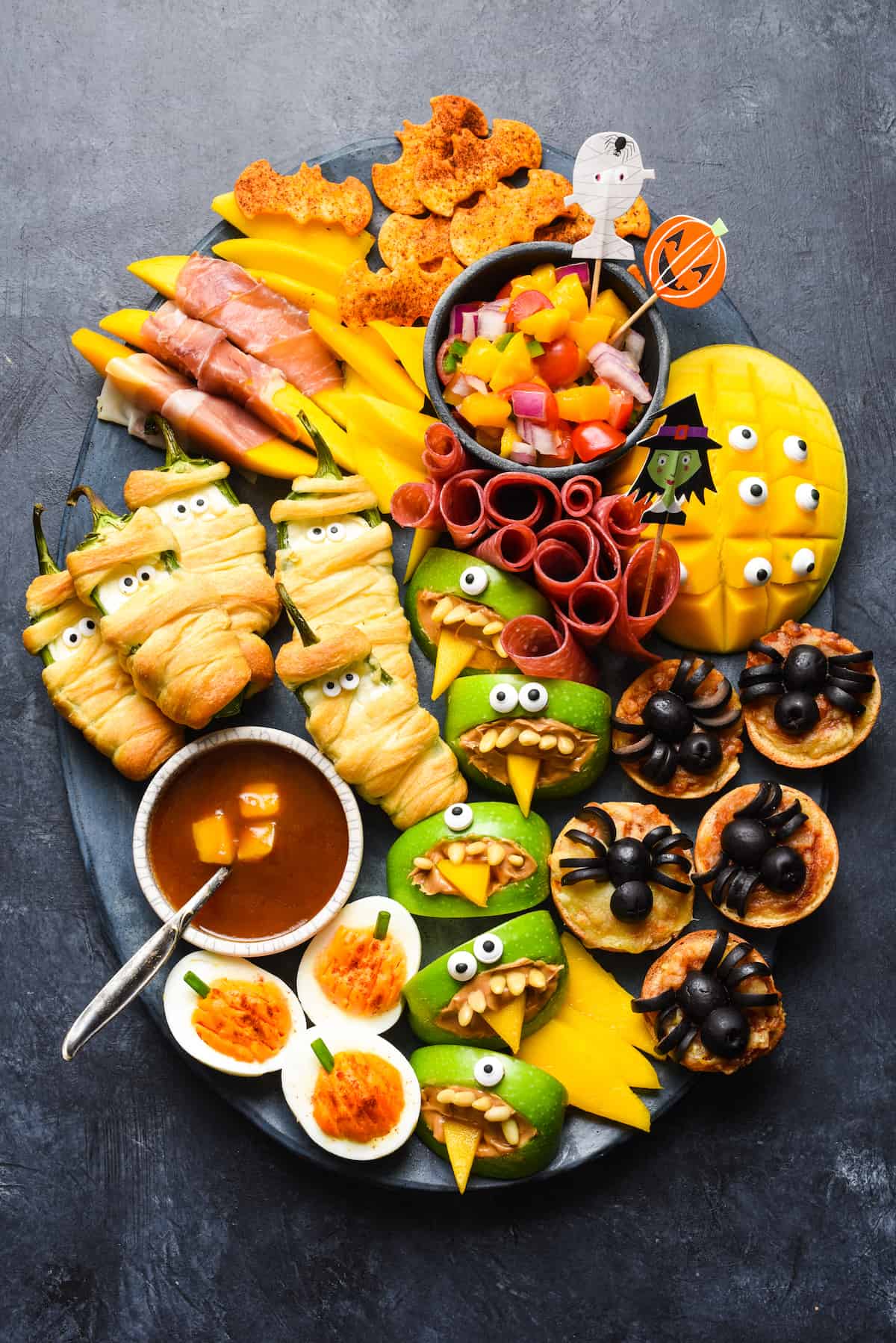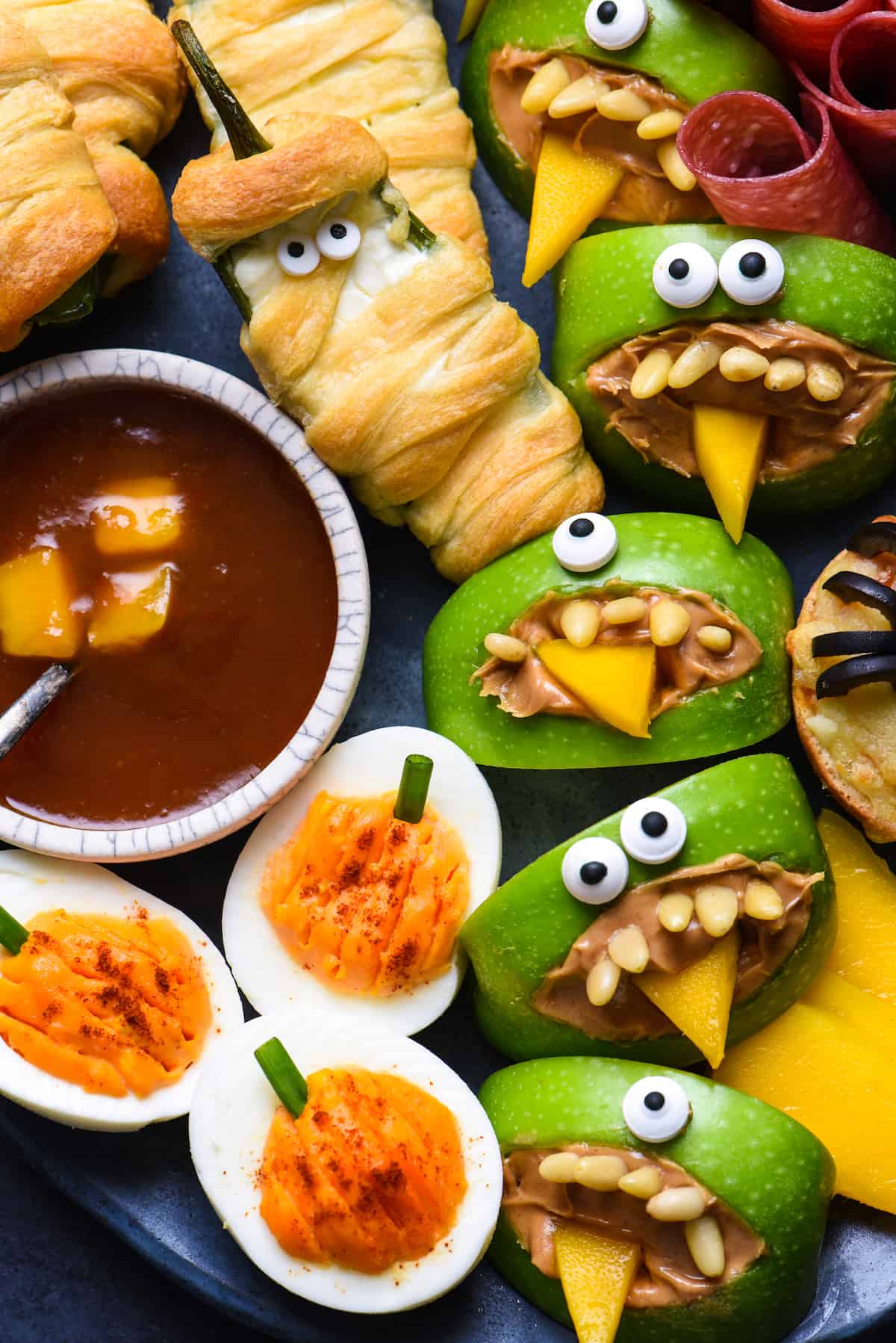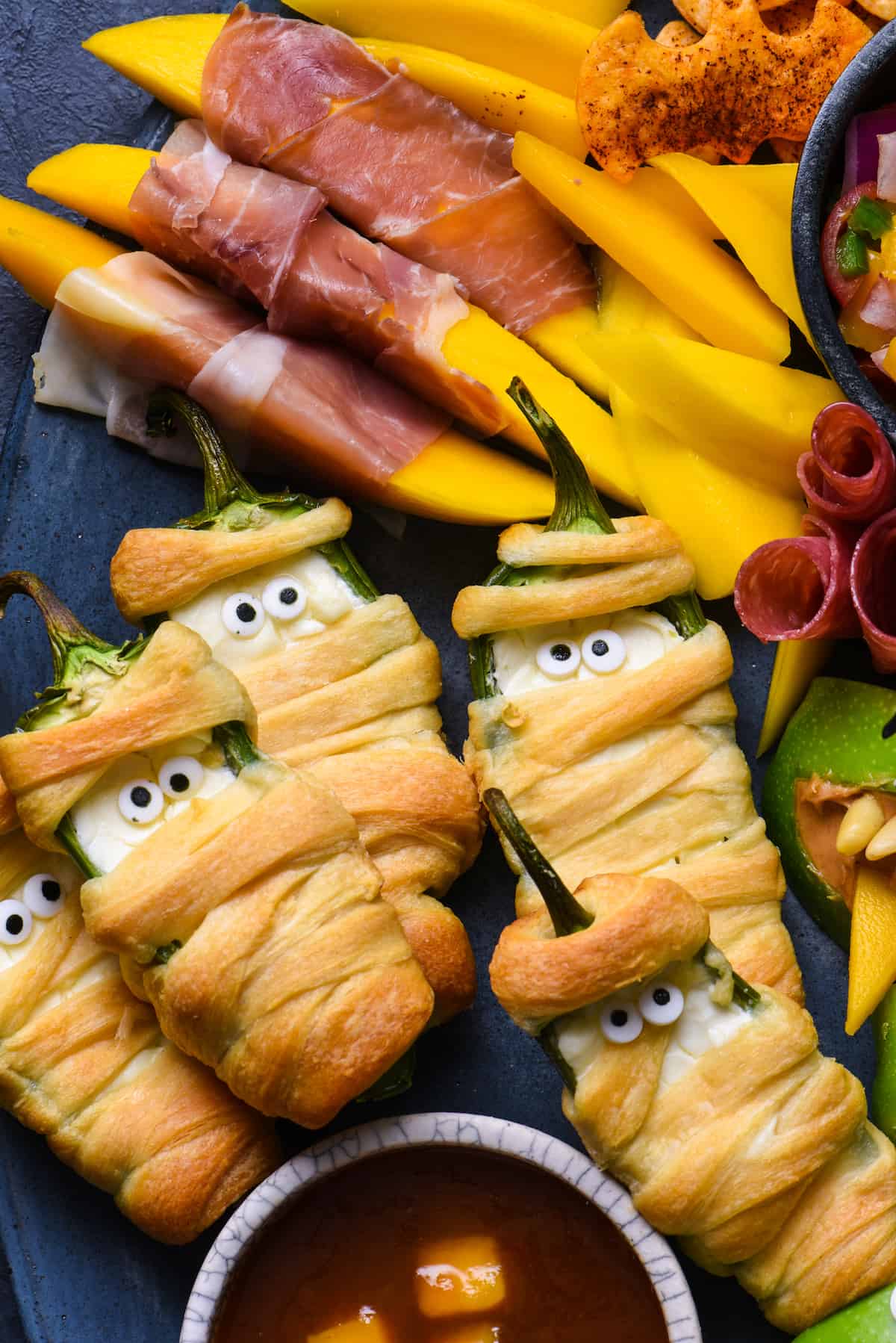 WHAT FOODS DO PEOPLE EAT ON HALLOWEEN?
I think there's two camps for Halloween food ideas – creepy or cute. Creepy involves lots of slimy eyeballs and fake blood. Personally, I don't find that the least bit appetizing. I don't want to eat a snack covered in fake blood! So, I took a more "cute" approach for these Halloween food ideas.
OK, so maybe the spider pizza bagels are a little bit creepy, but the mummies and monsters are just adorable, in my opinion. Spooky but not too scary, I think this platter would be perfect for a party for kids, as well.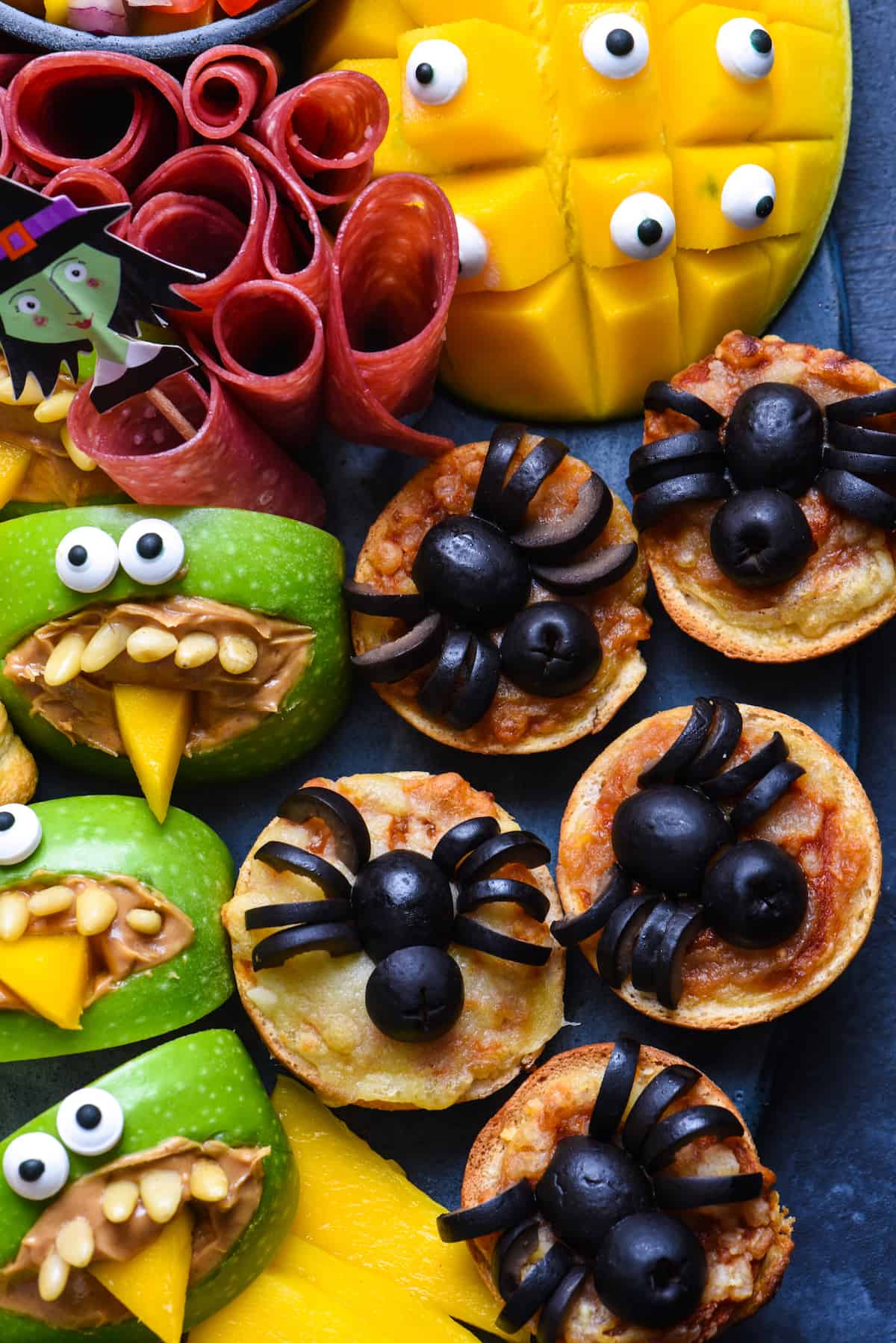 ABOUT THIS EASY HALLOWEEN PARTY FOOD
For any epic snack dinner, it's usually smart to have a theme that ties everything together, like "food that is vaguely Polish," or "spring ingredients." The theme of this Halloween snack dinner is mango! One of the most popular fruits in the world, mangos are available year-round, making them perfect for everyday meals as well as holidays.
There's a lot going on here, and I'll break it all out in the recipe card below. But as a quick overview, here's what's happening:
BAT tortilla chips with mango salsa
Jalapeño popper MUMMIES with mango sweet and sour sauce
SPIDER pizzas
Apple MONSTERS with mango tongues
PUMPKIN deviled eggs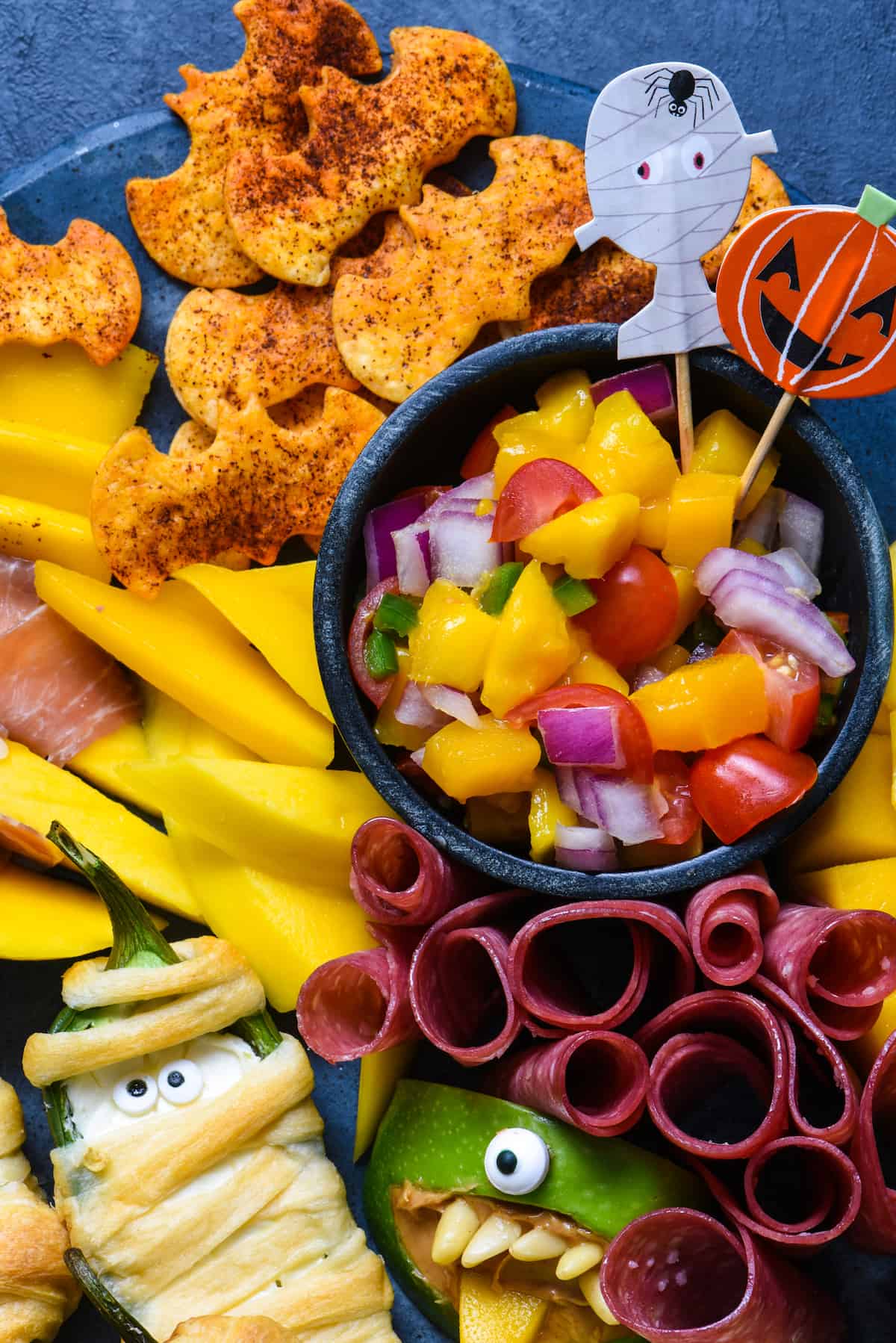 WHAT HALLOWEEN SNACKS SHOULD I BRING TO A HALLOWEEN PARTY?
If you're attending a Halloween party rather than hosting, any of these snacks can be carefully packed up and taken with you! The Jalapeño popper mummies are still really good at room temperature – bake them and cool them just before leaving, and then pack them up.
However, the spider pizza bagels are really best when fresh. If you're traveling with these, I would recommend cutting the olives into "spider parts" and taking them with you. Then, when you get to your host's house, bake the pizza bagels and then assemble the spiders on top and serve them right away.
Here are some fun recipes to try:
Spooky scary Halloween treats are so fun to make and to eat! These are going to make your house the hottest spot for Halloween celebrations this year!  
These spooky cupcakes are topped with big fat swirls of vanilla buttercream and garnished with a single gold chocolate caramel skull for Halloween perfection!
These hand pies are the perfect amount of cute and spooky for your Halloween gatherings.
Here's looking at you this Halloween! These tasty little shots are sure to turn a few heads at your Halloween Party this year!
These cocktails are monstrously tasty! These are definitely going to be super popular with your guests!
Take deviled eggs to a whole new world of spicy spooky goodness! These are sure to steal the show at your next Halloween party!
This is probably the first time no one will think twice about eating a spider. These cute little guys are sure to go fast!
For when you are watching the waistline of your lab coat! This low-calorie potion is spooky and tasty!
The spiders in these cookies are definitely not going to stop them from going super fast! Maybe make a double batch of these!